So I came across a woman from Syria today. Walking along the hard shoulder of the motorway.
Pushing a pushchair. In it her two year old son. Asleep and oblivious. A handbag hanging from the handles. And a bag of apples.
Her four year old held her hand as she pushed it. The car headlights lighting them up. Then they would fade again in the darkness.
They walked like that from the central station in Budapest. Walked for eight and more hours. You know what it's like to walk with three kids that age? That far? With a few belongings?
Her six year old daughter wrapped in a thin blanket. She told me her husband was in Germany. That she was going to find him.
The kids were amazing. Like so many have been. Most actually. But then the distance mounted. And this little family slowed.
The boy started to complain. Then cry. And he said no more. The daughter looked helpless. And mum burst into tears. There on the motorway.
She shook and crumpled over the pushchair. Her baby slept on. The cars flashed by. And mum and son cried. And trembled.
They were helped. The boy carried on shoulders. The pushchair pushed. And mum and daughter moved forwards slowly. Mum limping.
And that was how it was. For another three kilometres or more. Until they found their friend and stopped.
They lay out blankets on the grass verge. The little boy found his teddy bear. The girl wrapped herself up. They lay down.
And still the cars passed. And re baby? Slept through the lot. He will never remember how he once passed through Hungary.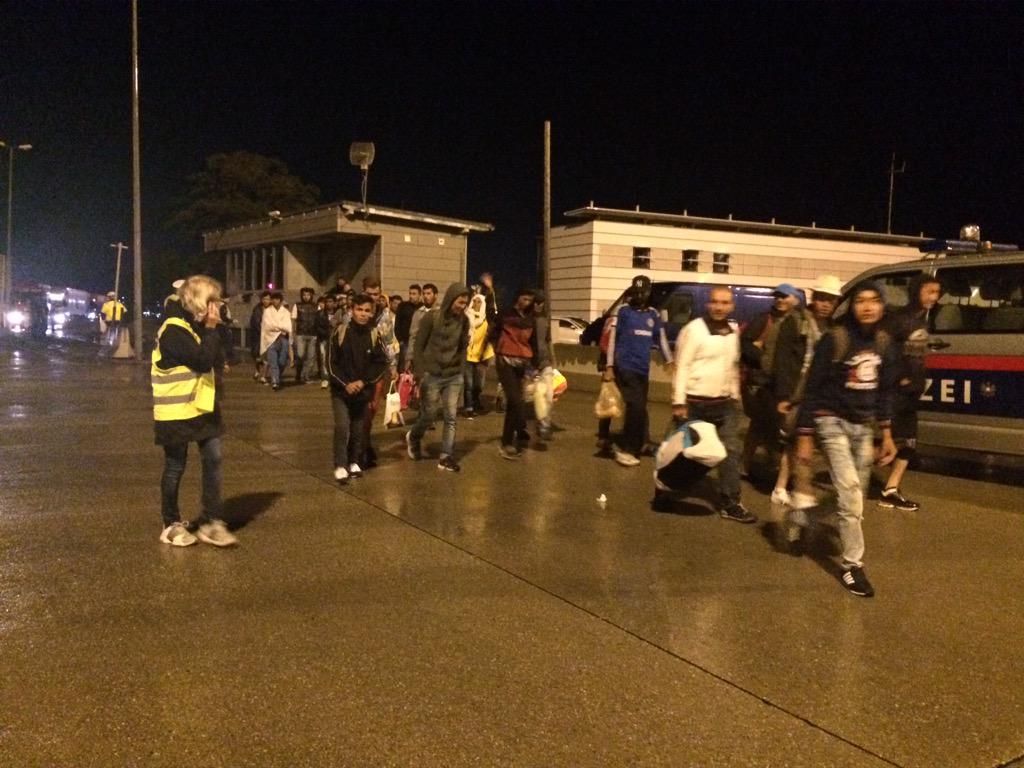 "Thank you. Thank you Austria" they say politely as they cross the border.
________________________________________________________________________
Approximately 8p.m. on September 4, 2015 in EST. on Twitter. All credit and ownership for content and photographs belong to: Matthew Price of the British Broadcasting Corporation. Matthew Price on the ground from Hungary near the German border today.
Compiled from Twitter feed of Matthew Price by Renuka Mendis, in Toronto. September 4, 2015. Bearing witness. (Pending permission from Matthew Price).
Title Passing through Hungary – A Novel by @BBCMatthewPrice was assigned by Renuka Mendis (Pending permission from Matthew Price).